Edge Side Includes (ESI) is a simple markup language used to define Web page components for dynamic assembly and delivery of Web applications at the edge of the Internet.

ESI provides a mechanism for managing content transparently across application server solutions, content management systems and content delivery networks. As a result, ESI enables companies to develop Web applications once and choose at deployment time where the application should be assembled – on the content management system, the application server or the content delivery network, thus reducing complexity, development time and deployment costs.

The ESI open standard specification is being co-authored by Akamai, ATG, BEA Systems, Circadence, Digital Island, IBM, Interwoven, Oracle, and Vignette.

NEWS
October 19, 2001
Akamai and Interwoven Enhance Management and Distribution of Dynamic Web Content
Complementary Technologies Leverage Edge Side Includes (ESI) to Streamline the Creation, Testing and Delivery of Dynamic Content and Applications more >>

October 2, 2001
Akamai and IBM to Drive Advances in E-Business Infrastructure for Enterprises
Specifically, Akamai and IBM plan to collaborate on ways to use IBM's WebSphere e-infrastructure software to manage high-volume transactions and speed deployment of e-business applications on Akamai's global network. more >>

September 28, 2001
BEA and Akamai Team to Enhance Customer Experience by Optimizing Performance of E-Business Applications
Companies to align offerings for agile e-business infrastructure through Edge Side Includes (ESI) more >>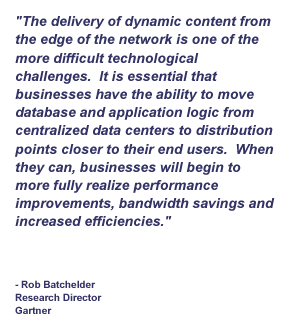 Questions? Suggestions? - Join the ESI community!